David Buist Named Fort Mill / Tega Cay Businessperson of the Year
Story by: Ferrara Editor
February 2, 2023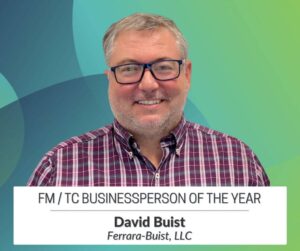 We are excited to share the news that David R. Buist, Managing Partner of Ferrara-Buist Contractors, has been named the 2023 Fort Mill/Tega Cay Businessperson of the Year by the York County Chamber of Commerce, sponsored by South State Bank. This prestigious award recognizes David's outstanding business achievements, leadership, and dedication to the local community.
As a graduate of Leadership York County and a board member for several non-profit organizations, David has built his business on the principles of community service and giving back. His commitment to the local community has helped Ferrara-Buist Contractors establish itself as a trusted and respected name in the construction industry.
David's success is a testament to his entrepreneurial spirit and his unwavering dedication to excellence. Through his leadership, Ferrara-Buist Contractors has completed numerous high-profile projects, including the construction of commercial buildings, residential homes, and industrial facilities.
In addition to his business accomplishments, David is also actively involved in supporting local charities and community events. He has served on the board of directors for several local organizations, including the York County Regional Chamber of Commerce and the United Way of York County. His tireless efforts and unwavering commitment to the local community serve as an inspiration to us all.
David is a partner and managing member of Ferrara Buist, LLC And oversees the Fort Mill/Charlotte office. David is focused on the overall aspects of the client relationship and operations of Ferrara Buist. David is a graduate of Clemson University with a degree in Civil Engineering. He currently serves on the Boards for both YMCA and Adult Enrichment Center. We applaud his commitment to excellence, community service, and his unwavering dedication to the local community. We wish him continued success in all his future endeavors.